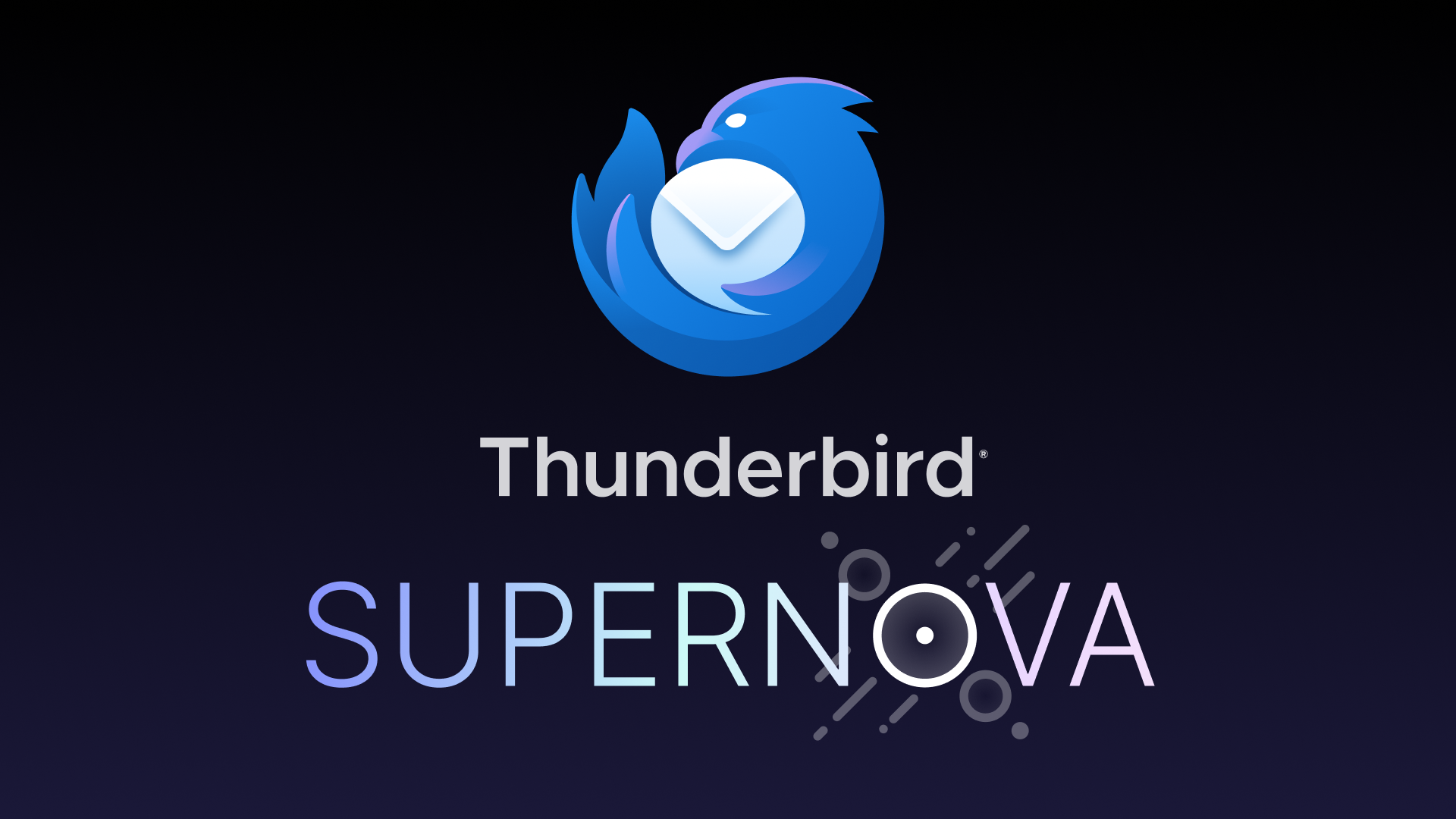 Our Fastest, Most Beautiful Release Ever: Thunderbird 115 "Supernova" Is Here!
On behalf of the Thunderbird team, Thunderbird Council, our global community of contributors, and our extended Mozilla family, I am incredibly excited to announce the initial launch of Thunderbird 115 "Supernova" for Linux, macOS, and Windows! With this year's version, we're delivering much more than just another yearly release. Supernova represents a modernized overhaul of the software – both visually and technically – while retaining the familiarity and flexibility you expect from Thunderbird.
"Supernova is the beginning of a new era for Thunderbird," says Ryan Sipes, Thunderbird's Product and Business Development Manager. "It lays a beautiful, solid groundwork for future releases that will make Thunderbird a significantly better email client – and we won't stop until it's the best option out there."
"During the past year we reworked some of the oldest parts of our code base with the goal of modernizing them to make maintenance and extensibility easier," says Alex Castellani, Thunderbird's Director of Product Engineering. "We did our best to strike a comfortable balance between new features and interface changes to appeal to new users, while maintaining the current layout and interface that millions of our users know and love. This is the first step towards a more flexible, reliable, and customizable Thunderbird that will accommodate different needs, preferences, and workflows."
Here's a brief look at some of the best new features and improvements in Thunderbird 115. For the complete list, please visit this support article.
---
Modernized Cards View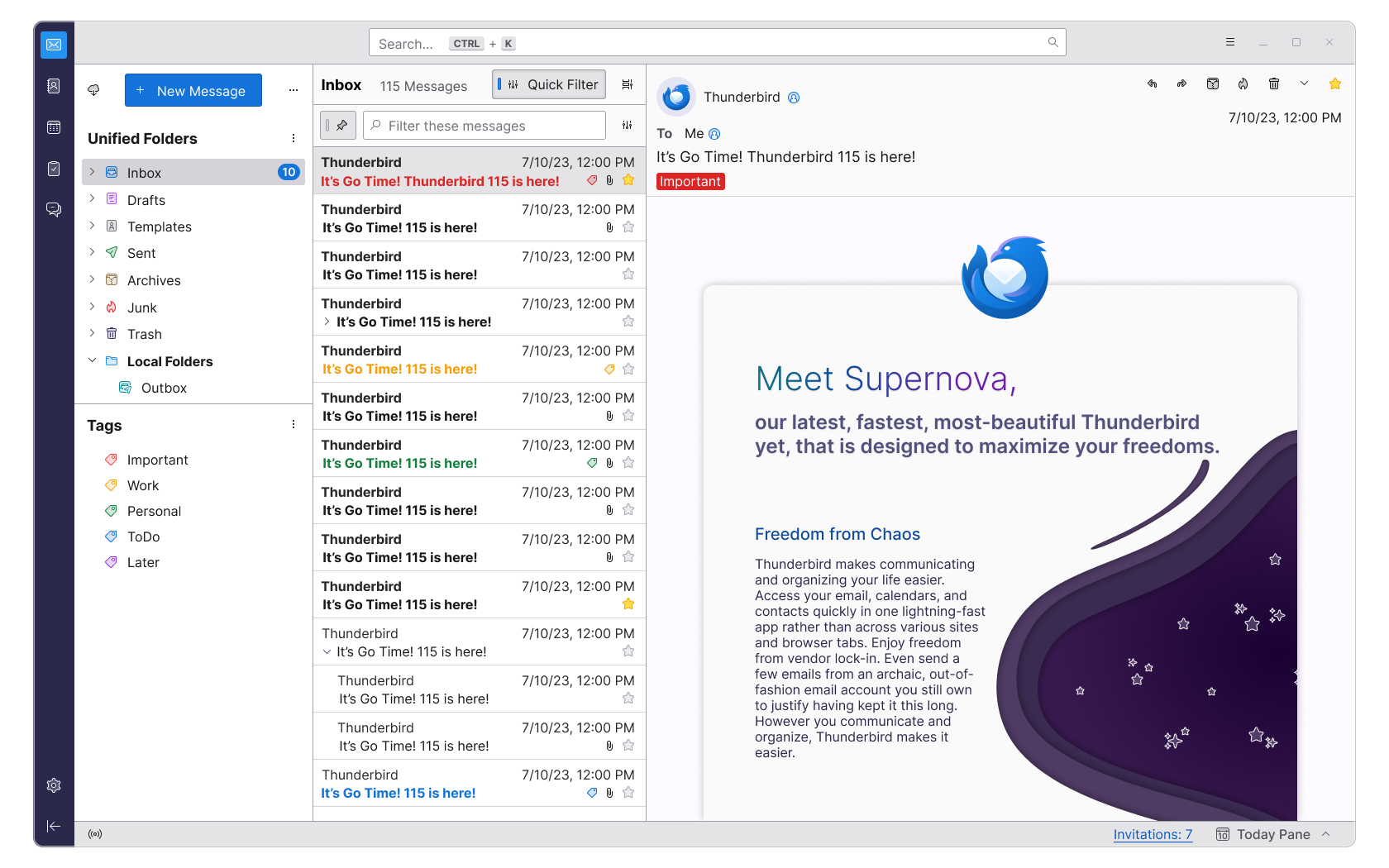 Supernova's new Card View is our version of the well-known vertical layout for the Message List, perfect for people used to modern webmail. Card View emulates a mobile interface list with multi-line support, offering a more comfortable appearance to reduce cognitive burden. (And because we want Supernova to feel familiar for veteran users, the legacy "Table" view is still available.)
Brand New Thunderbird Logo
Supernova ships with a brand new Thunderbird logo honoring our history and vital connection to Mozilla, while representing the revitalization of our brand and a promising, sustainable future.
Dynamic Unified Toolbar
Supernova features a single dynamic toolbar, presenting frequently used and contextual options based on the tab or Space that is currently active. Take full control by customizing the toolbar and window layout to perfectly fit your workflow.
Intuitive AppMenu
The new Application Menu (≡) in Supernova is now keyboard-accessible, and redesigned for faster, easier navigation. Fewer submenus, persistent global options, and consistent iconography combine to create a much more intuitive experience.
Improved Calendar Design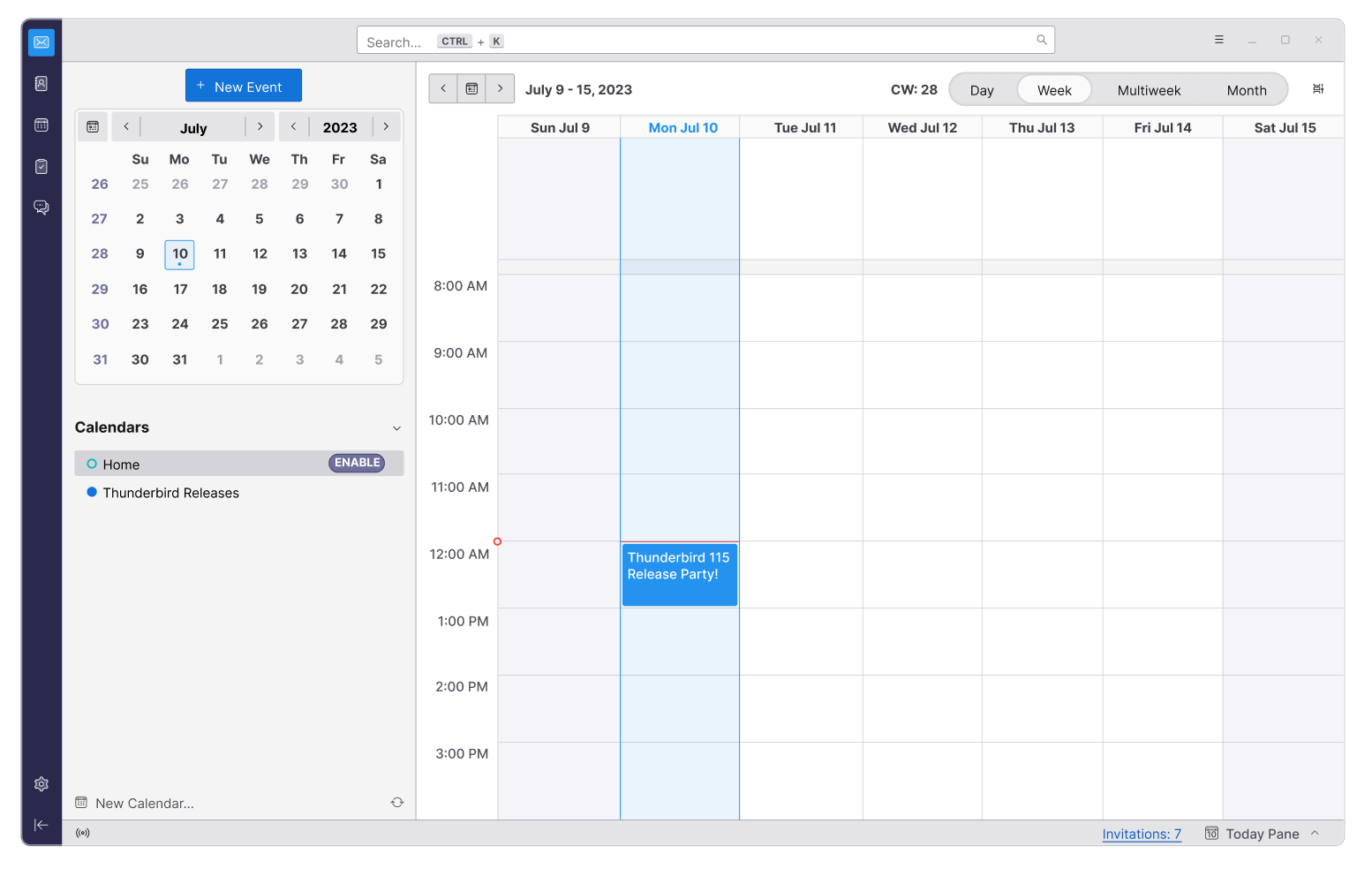 As part of an ongoing effort to modernize and upgrade Thunderbird's Calendar, Supernova introduces an improved "mini-month" layout, improvements to the day/week/month grid, a pleasing color palette, and several more minor changes.
Elegant Density Control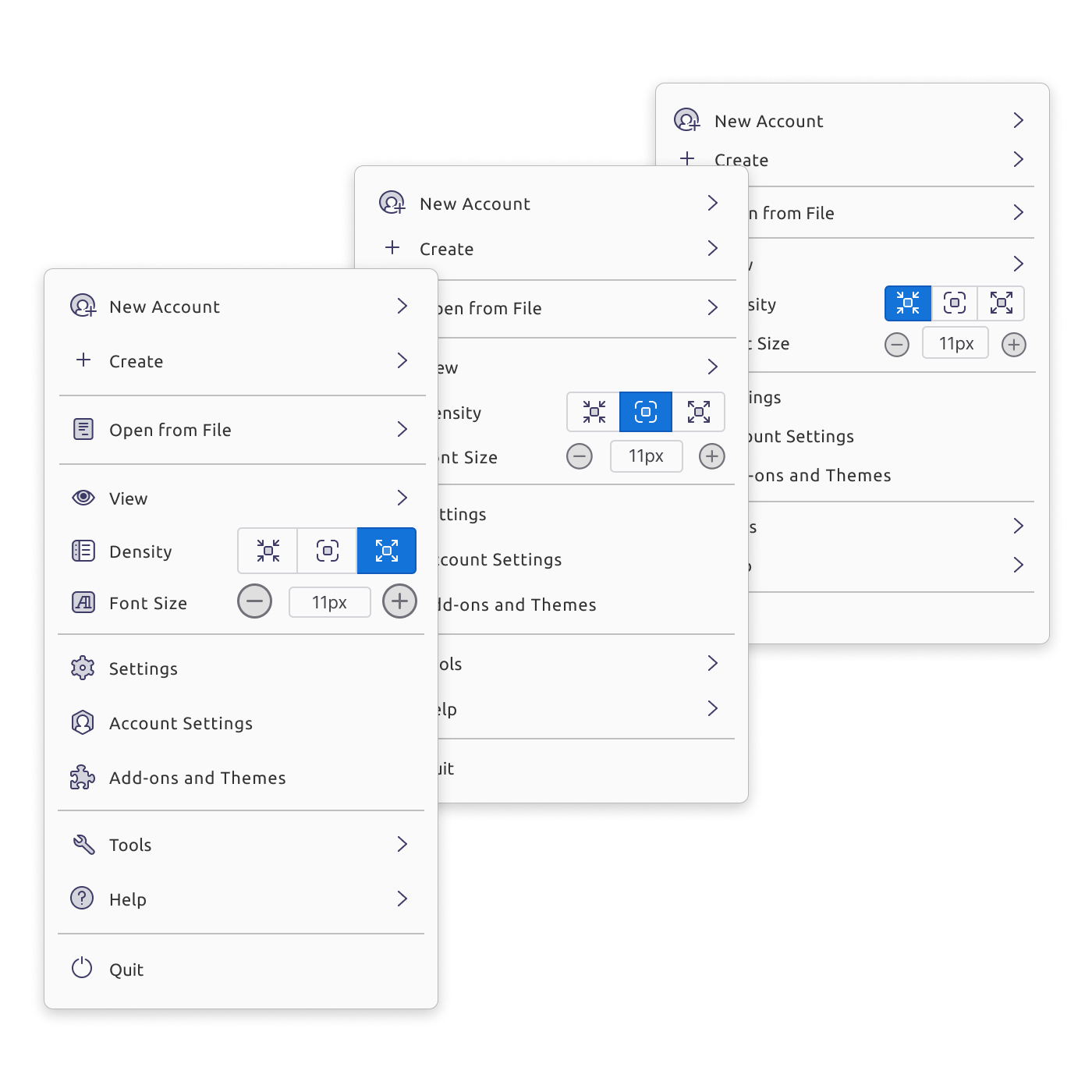 Working with multiple monitors and display resolutions? Supernova lets you dial in the perfect density settings and font sizes for the entire application, with just a single click from the AppMenu.
New + Sortable Folder Modes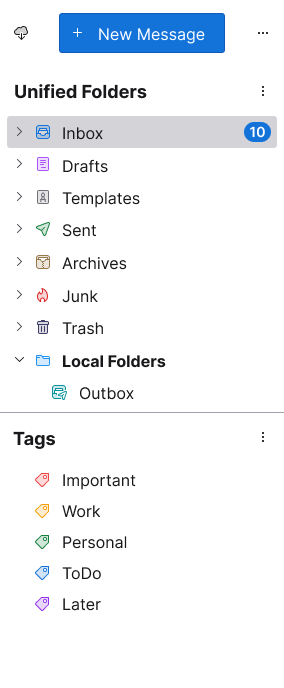 Supernova gives you more control by introducing sortable Folder Modes. Display all of your Tags in the Folder Pane, turn on and off Local Folders, or move your favorite Folder Mode sections up and down with one click. Less scrolling, more productivity.
Eye-Catching Tags View
Tags are a familiar and powerful part of your workflow, so Supernova adds an eye-catching "Tags" view to the Folder Pane. Quickly jump to your custom, color-coded tag categories to find and filter your messages even faster.
Improved Address Book
Supernova continues to iterate on the modernized Address Book introduced in Thunderbird 102. You'll enjoy a new tabular view, an improved Edit view, delete buttons, and better accessibility.
Better Accessibility
Speaking of accessibility, Supernova substantially improves Thunderbird's keyboard navigation and screen reader accessibility across the entire application. We've also greatly expanded the ability to navigate Mail content and buttons using the TAB and arrow keys.
More To Come…
Supernova is constantly evolving. Throughout the next year, we'll deliver many improvements to existing Supernova features and introduce brand new ones, including Thunderbird Sync. Upgrade to version 115 and experience the future of Thunderbird!
---
How To Get Thunderbird 115 "Supernova"
As with any major release, we sometimes become aware of corner cases after significant public testing. The Thunderbird team will wait to enable automatic updates until we're confident no such issues exist. We'll keep you posted right here, and on social media platforms. (Existing Thunderbird 102 users will continue to see security updates during this time).
On Linux, the timing of this release and subsequent automatic updates may be determined by your distribution's maintainers. If it's convenient for you, we recommend installing the Thunderbird Flatpak from Flathub, which is now packaged and maintained by the Thunderbird team. (Please note that 115 is not live on Flathub at time of publication, but as always we'll keep you updated.)
If you don't want to wait for an automatic update, Thunderbird 115 is also available to download directly at thunderbird.net for Windows, Linux, and macOS.
Want to visualize the differences between 102 and 115 at a glance? Check out this awesome comparison slider.)