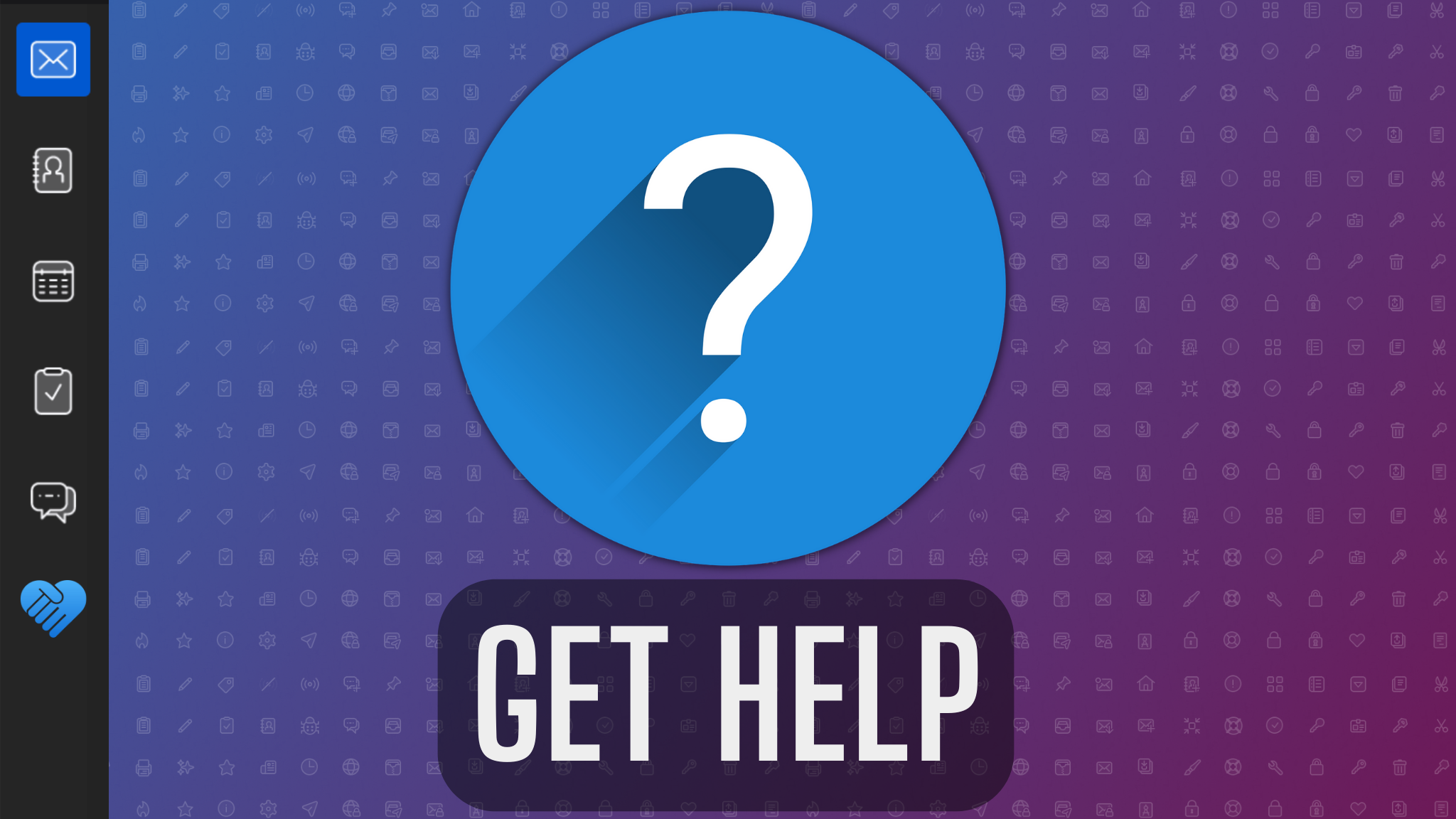 Need Help With Thunderbird? Here's How To Get Support
We understand that email and calendaring can be a vital part of your work day, and just as important to your personal life. We also realize that sometimes you'll have questions about using Thunderbird. That's where the amazing Thunderbird Community enters the picture. Whether you need tech support or just need a simple answer to a question, here's how to find the help you need. And how to help the people who are helping you!
---
Why Community Support?
We celebrate the fact that our software is open-source and funded by donations. It's this community-powered model that helped us thrive during the past few years.
The generous donations of our users have allowed us to build a solid foundation for Thunderbird's future. Our core team of engineers and developers is devoting their time to improving Thunderbird from all angles, from visuals to features to infrastructure.
But because we're open-source, a global community of contributors also helps improve Thunderbird by adding ideas, code, bug fixes, helpful documentation, translations… and user support!
So, our approach to support reflects our commitment to open-source and open development: we invite knowledgeable, friendly people to help their fellow Thunderbird users. This means fewer barriers to getting help, regardless of your native language, your time zone, or your skill level.
Thunderbird Trouble? Try This First!
Sometimes, a custom setting or Thunderbird Add-On might be causing your problem. And there's an easy way to figure that out: try Troubleshoot Mode.
Troubleshoot Mode (previously called Safe Mode) is a special way of starting Thunderbird that can be used to find and fix problems with your installation. Troubleshoot Mode will run Thunderbird with some features (like Add-ons) and settings disabled. If the problem you're experiencing does not happen in Troubleshoot Mode, you've already done a lot to narrow down what's causing the issue!
Always try Troubleshoot Mode before reporting a problem. Just follow this link to learn how to turn Troubleshoot Mode on and off.
#1: Thunderbird Community Support
When you have a question about Thunderbird or need some help, this dedicated support page is the best place to visit:
➡️ https://support.mozilla.org/products/thunderbird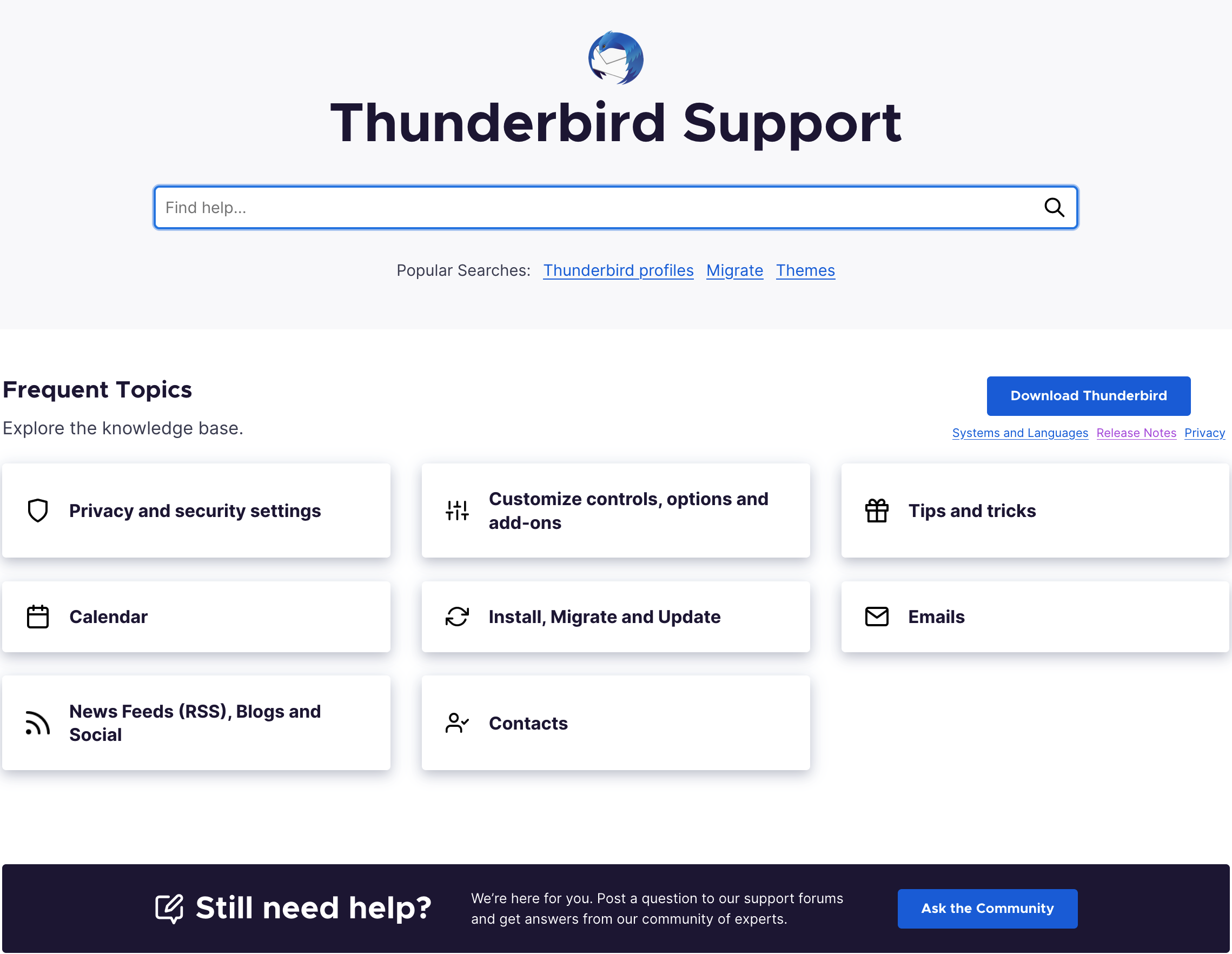 The global Thunderbird Community has many experienced experts who volunteer their time and knowledge to help fellow Thunderbird users fix their issues.
You'll find an extensive (and always growing) knowledge base of articles covering Thunderbird's features, and helpful how-to guides on customization, privacy settings, exporting, and much more.
If your search doesn't produce a satisfying result, you can ask the community a question from the same page. All you'll need is a Firefox Account and an email address to receive notifications about responses to your question.
With nearly half a billion monthly active users, Reddit is ranked as the 9th most popular website in the world. You might already have an account! We have our own "Subreddit" where Thunderbird volunteers and staff members answer user questions and share important updates: https://www.reddit.com/r/Thunderbird/
Reddit works well as a support forum. It has fast notifications, a threaded conversations view, and easy-to-read interface. If you can't find your answer elsewhere, ask us on Reddit!
Screenshots Are Helpful: Include Them!
Taking a screenshot of the problem you're having is a great way to show the developers and volunteers your problem, especially if you're having difficulty describing it with words.
Before posting on the Thunderbird Support Forum or Reddit, try to capture screenshots of the issue. Here are links explaining how to do that on Windows, Linux, and macOS:
Include Your OS and Thunderbird Versions
You want your problem solved as quickly as possible so you can get on with your work! One productive step toward doing that is to always include your operating system (e.g. Ubuntu 22.04, macOS Monterey 12.5, Windows 10) and exact version of Thunderbird (e.g. Thunderbird 102.3.1) in your initial question.

It really speeds up the process and helps the Thunderbird Community to better assist you.
To find out your version of Thunderbird, click the App menu (≡), and then "Help" and then "About Thunderbird."
---
Obviously we hope you never have problems with Thunderbird, but if you ever need help, we hope the above resources and tips help you solve them!
💡 Do you want to request a new feature for Thunderbird? We'd love to see your ideas! Just browse to this page on Mozilla Connect and tell us.